WOODSTOCK'S 40th ANNIVERSARY


---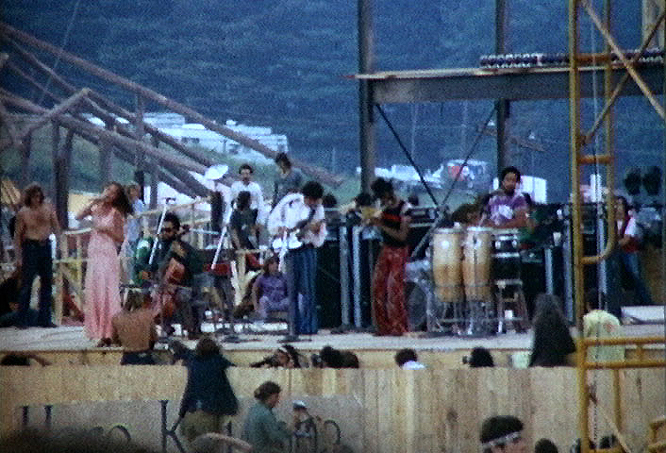 Sweetwater at Woodstock August 15, 1969
Photo by Derek Redmond - From Kenny Sahr's SweetwaterFan site
---
It's hard to believe that so much time has passed, yet to us, the surviving members of SWEETWATER, it seems like yesterday. Oddly enough for us, there is more activity surrounding this year's anniversary than at any time since we played there on that fateful weekend in 1969.

Since late 2008 through today, we have participated in dozens of domestic and international news interviews, TV interviews (VH1 & History Channel), contributed our words and photos to several Woodstock books, magazines and internet articles.
---
The Ang Lee movie, 'Taking Woodstock' has optioned our song 'Motherless Child' for use in it.

---

There is also a Best of Woodstock - Various Artists [Limited Edition] CD

with Jimi Hendrix (Author), Sweetwater (Author), Melanie (Author), Arlo Guthrie (Author), Joan Baez (Author), Santana (Author), John Sebastian (Author), Canned Heat (Author), Mountain (Author), Creedence Clearwater Revival (Author)

Available from Amazon:
Several Books:
Woodstock: Three Days That Rocked the World (Hardcover)
by Mike Evans (Editor), Paul Kingsbury (Editor), Martin Scorsese (Foreword)


Join Together! Forty Years of the Rock Festival (Paperback) by Brant (Author), Marley (Author)


Woodstock - Peace, Music & Memories by Brad Littleproud and Joanne Hague
(Paperback - Jul 3, 2009)

---

On August 25th - Rev-Ola (the venerable British re-issue label) is releasing Sweetwater's first album for European distribution, titled simply "Sweetwater", originally released in the U.S. by Warner Bros/Reprise in 1968.
It will be re-mastered and will have extensive, totally new liner notes and never-before seen vintage pix of the band.
It will be available in the US - from various vendors including:
"Rev-Ola Sweetwater - Barnes and Noble"
"Rev-Ola Sweetwater - Target"
"Rev-Ola Sweetwater - Amazon"

---
Because things keep coming up nearly every day now . . . stay tuned for updates.

Thanks for your loyal support over these many years, Nancy Nevins, Fred Herrera, Alex Del Zoppo (founders, Sweetwater)
---
Available
from
Collector's Choice. Click on this link to check it out!
---
(1st album)
Label: Reprise
Record# 6313
Title: SWEETWATER
Year: 1968


(2nd album)
Label: Reprise
Record# 6417
Title: JUST FOR YOU
Year: 1970


(3rd album)
Label: Reprise
Record# 6473
Title: MELON
Year: 1971

---
And...you can find us in other places:
---
Barnes and Noble is selling a 60's music compilation CD called

"Hippie."

The disc features a Sweetwater cut, the pre-accident "Motherless Child!" Warner Brothers Special Projects edited and re-mastered the music, including Arlo Guthrie, The Grateful Dead and others.

Barnes and Noble is also selling a coffee table book with it. The book, also, is called "Hippie" The book was #4 on the New York Times bestseller list.

It's a sweet collection.

_
---
For all who have been requesting song Lyrics -
Go to "Live at Last" page OR Lyrics for links to Lyric pages

---
---
The VH1 movie that chronicles the band's history is still available from various web merchants:
"Sweetwater: A True Rock Story"

---
---
Some History:
---

The Movie:
For those of you hitting us up for the first time, a re-cap. VH-1 has produced an original feature film about Sweetwater entitled- - - guess what, "Sweetwater, a True Rock Story." It deals quite a bit with Nancy's life as it evolved around the group.

Building on the enormous success of their behind-the-scenes documentaries, VH-1 has now moved into the production of original movies. Our docu-drama/ telefilm, as it is called, is their flagship release.
The movie premiered on August 15, 1999. It incorporates a mixture of musicians and TV & film personalities playing the real us. Amy Jo Johnson ("Felicity" TV series) and Michelle Phillips will be playing Nancy. Also on board are Frederick Forrest, Kelli Williams ("The Practice"), and Adam Ant.

Also shown were two documentaries : "Where Are They Now- Woodstock," and "Behind The Movie-Sweetwater." Both of these specials were in continual rotation on VH-1 the week preceding the film's premier (08/08 thru 08/15, 1999).
For more info on the "flick", go to Nancy's Notes: .
---
---
| | |
| --- | --- |
| Photo courtesy of Dyann Gronewald | The world famous "Whisky a Go Go" held a 35th anniversary music festival (Jan. 16- 23, '99) with a number of acts who had played the club during the early years. We performed there on Sunday, the 17th with a lot of other great groups and friends. |
---
If you're into vinyl, you can probably find our earlier albums in collector stores (see discography). If you like to search more, you might find us on someone's 185th generation bootleg videotape copy of film shot at Woodstock '69.
Even though we were the lead- off group, we weren't aware of how many cameras were pointed on us at the time. We started realizing this upon seeing all the different angles of us on stage from tapes of the concert that were surfacing (and still are) all over the place. KEEP IN TOUCH.
---