WOODSTOCK'S 50th ANNIVERSARY


---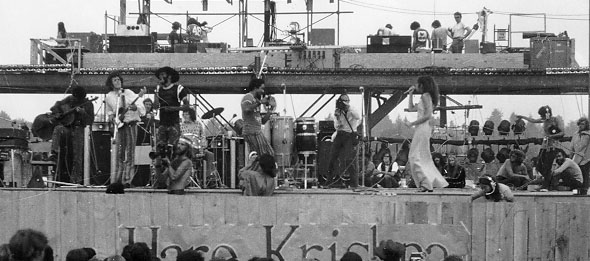 Sweetwater at Woodstock 1969
---
2019 was the FIFTIETH ANNIVERSARY of the original WOODSTOCK Music & Arts Fair, there was more activity surrounding this anniversary than at any time since we played there on that fateful weekend in 1969.
Over the years, we have participated in dozens of domestic and international news interviews, TV interviews (VH1 & History Channel), contributed our words and photos to several Woodstock books, magazines and internet articles, but 2019 saw a remarkable resurgence of interest.
---
---
CONGRATULATIONS!
on the Grammy nominations for the Woodstock - Back to the Garden: 50th Anniversary Archive
---
Fantastically, the ones who re-mastered the Woodstock tapes in 2019:
Andy Zax, Dave Schultz, and Brian Kehew have been nominated for Grammy Awards this year in TWO CATEGORIES:--

Category #66, BOXED SETS,

Category #68, HISTORICAL.

The wonderful part for SWEETWATER is over an hour of SWEETWATER music is included on this 2019 grammy- nominated re-master!
Congrats and big thanks to Andy Z. and Co. On their project. Well-done.
Rhino rocks, too.
---
In August, to commemorate the 50th anniversary of the original WOODSTOCK Music & Arts Fair, our original record label, Warner Bros/Rhino Records released several different sized box sets of material from the 1969 event.

Among them was one limited edition, particularly massive, extremely inclusive box set, "WOODSTOCK - BACK TO THE GARDEN: THE DEFINITIVE 50TH ANNIVERSARY ARCHIVE", which includes every single auditory thing that occurred throughout the entire festival!
The intention is to give today's listeners the sonic experience of having been there fifty years ago – every minute of the three days of that iconic festival!
Consequently, this includes not only every song played and sung by every act throughout the festival (including SWEETWATER), but EVERY NOTE, played, sung, tuned or unintentionally made, as well as every announcement made over their massive PA system, crowd responses, helicopters coming and going, and even periods of silence between all of the above.
We heard our set during the mixing process – it's eerily like being there!
Producer Andy Zax has magically made all of the original music sound clearer (without altering or overdubbing any note), while still allowing the listener to feel immersed in the event as it happened!
---
---
In 2019:

In August we were invited to play at Rhino for the celebration of the release of the WOODSTOCK - BACK TO THE GARDEN: Boxed set.

In March we participated in several Q & A panels at The MUSEUM at BETHEL WOODS, the original site of the 1969 WOODSTOCK FESTIVAL (a place that was once Yasgur's Dairy Farm), to speak about our experiences in 1969 and since. Needless to say, it brought back intense memories of us playing on that stage and the time we spent there . . . all those years ago.

We also completed a TV special in Los Angeles on KTTV (the Fox affiliate, who were celebrating their 70th anniversary in LA!) on "nostalgia" hosted by long-time anchor Hal Eisner. It included a short SWEETWATER special about our music, history and current activities, along with a spare live performance by Nancy & Alex.

In July, we played in New York at the Great South Bay Music Festival on Long Island.
We also appeared at a Port Washington, NY SWEETWATER multimedia & live music event.
---
Additional items from the Woodstock 40th Anniversary:
40th Anniversary Boxed sets:

Rhino Records issued several different variations of WOODSTOCK box sets, featuring the live music from those three days in 1969, most with Sweetwater songs included.

"WOODSTOCK -- 40 YEARS ON: BACK TO YASGUR'S FARM BOXED SET"

The Ang Lee movie, 'Taking Woodstock' has optioned our song 'Motherless Child' for use in it.

---

There was also a Best of Woodstock - Various Artists [Limited Edition] CD

with Jimi Hendrix (Author), Sweetwater (Author), Melanie (Author), Arlo Guthrie (Author), Joan Baez (Author), Santana (Author), John Sebastian (Author), Canned Heat (Author), Mountain (Author), Creedence Clearwater Revival (Author)

Available from Amazon:
Several Books:
Woodstock: Three Days That Rocked the World (Hardcover)
by Mike Evans (Editor), Paul Kingsbury (Editor), Martin Scorsese (Foreword)


Join Together! Forty Years of the Rock Festival (Paperback) by Brant (Author), Marley (Author)


Woodstock - Peace, Music & Memories by Brad Littleproud and Joanne Hague
(Paperback - Jul 3, 2009)

---

Rev-Ola (the venerable British re-issue label) released Sweetwater's first album for European distribution, titled simply "Sweetwater", originally released in the U.S. by Warner Bros/Reprise in 1968.
It was re-mastered and has extensive, totally new liner notes and never-before seen vintage pix of the band.
It is available in the US - from various vendors including:
"Rev-Ola Sweetwater - Barnes and Noble"
"Rev-Ola Sweetwater - Amazon"

---
Available
from Collector's Choice:
"Click on this link to check it out!"
---
(1st album)
Label: Reprise
Record# 6313
Title: SWEETWATER
Year: 1968


(2nd album)
Label: Reprise
Record# 6417
Title: JUST FOR YOU
Year: 1970


(3rd album)
Label: Reprise
Record# 6473
Title: MELON
Year: 1971

---
And...you can find us in other places:
---
Barnes and Noble sold a 60's music compilation CD called "Hippie." The disc featured a Sweetwater cut, the pre-accident "Motherless Child!" Warner Brothers Special Projects edited and re-mastered the music, including Arlo Guthrie, The Grateful Dead and others.

Barnes and Noble is also selling a coffee table book. The book, also, is called "Hippie" The book was #4 on the New York Times bestseller list in 2009

It's a sweet collection.
---
For all who have been requesting song Lyrics -
Go to "Live at Last" page OR Lyrics for links to Lyric pages

---
Thanks for your loyal support over these many years, Nancy Nevins, Fred Herrera, Alex Del Zoppo (founders, Sweetwater)
---
---
---